Technology has automated the world around us. Smart homes are the biggest example with a proven record that technology has greatly influenced our everyday lives. The best smart home devices have made their way and brought unlimited lightning options to revamp your ambiance.
The extensive collection of lights in the market has increased the competition. However, for ages, the Philips brand has won millions of hearts with its striking designs, variety, and technology-rich lightning devices, plus accessories. The Philips Hue 3 A19 is one of the ideal choices with extraordinary brightness. A personal wireless lighting system delivers a mind-blowing experience. It offers endless possibilities to rejuvenate your mood with perfect lightning at your place.
The White and Color LED ambiance lights with 6500-Kelvin color temperature to create the right mood. The different color options offer a warming ambiance. Philips Hue Lightbulb is a smart, functional, and affordable lighting option. The Philips Hue White and Color LED smart button starter kit is a complete solution to all your stylish and hi-tech home needs.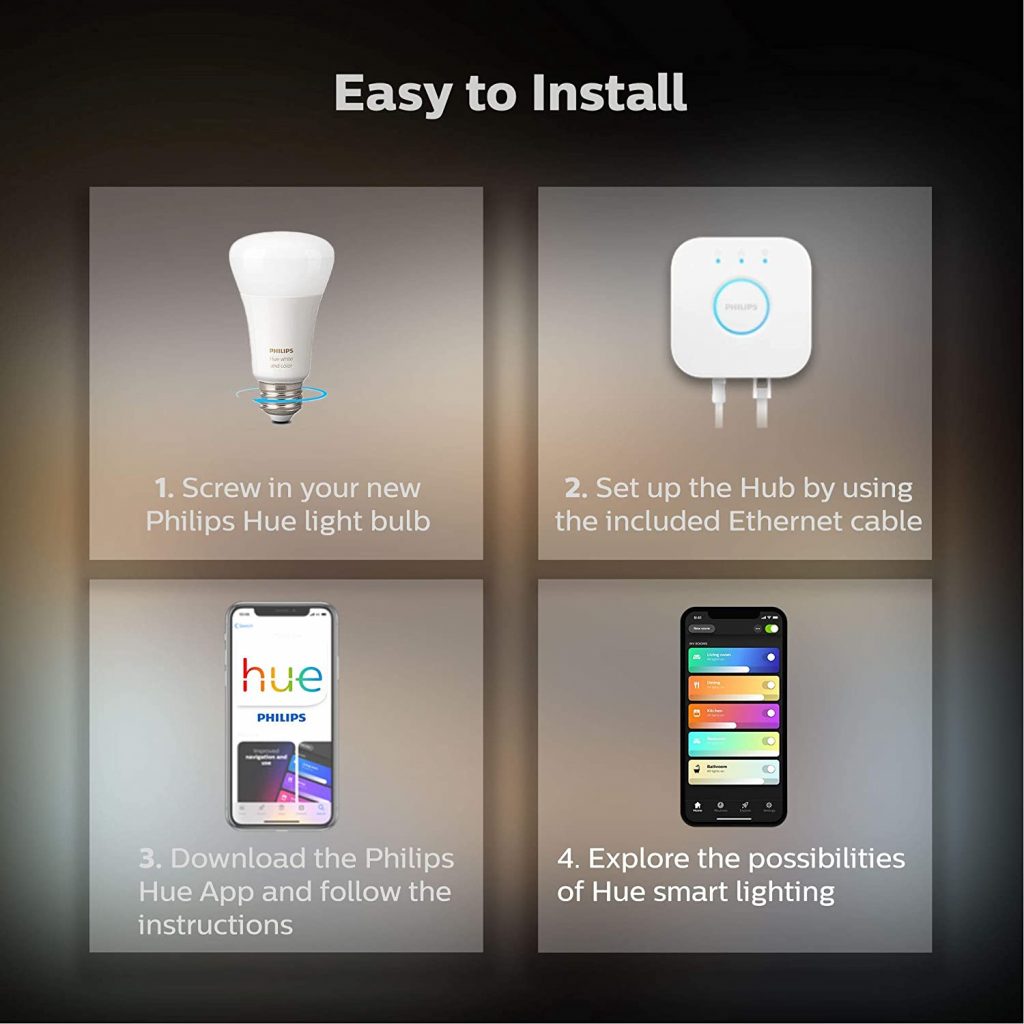 Benefits of Philips Hue Smart Button Starter Kit
The fast, smart, and secure control is offered for convenient management of lighting. No matter it's installed in your room, kitchen, halfway, or at another place, the application eases controlling up to 50 hue lights.
The timers are quick to set with the Hue app. Rather than an audio alarm, the lights act as a visual alarm system and at a designated time it starts reminding the owners.
Synchronizing of lights to music, video, and games? Yes, this is no less than a surprise that the hue lights enable you to link entertainment with lights. The app helps in the easy positioning of lights for entertainment.
The energy-efficient bulbs make it easier to create a home atmosphere by personalizing your lights. The one-click adjustment of lights changes the ambiance seamlessly.
Setting routines is no longer stressful with Philips Hue Lights app. The routines menu helps customize routines, timing, and more with just a tap.
How does it work?
Philips Hue Lightbulbs are perfectly designed to work with Alexa, Apple Homekit, and Google Assistant by adding voice control. To get it started, there is no need for wires as the hue lights are easy to install and place. The smart button that comes along with the starter kit can be placed at any place by using magnets, tape, and a wall bracket.
It efficiently runs using an application. The Philips Hue Light application installed on your smart device enables the user to set routines, schedule custom light scenes, and more.
The application lets the smart bulbs automatically work for you in a way that it detects the absence and presence of humans to turn on/off the lights. To take the most out of Philips Hue lights, you simply need to add hue light points and accessories. The Hue Tap switch makes it hassle-free to keep full control over lights without getting the phone in your hand.
Through the application, you can program the scenes as per your preference. The four different scenes include Energize, Concentrate, Read, and Relax.
Philips Hue App- Get it downloaded!
The intuitive and user-friendly app is feature-packed that is compatible with Android & iOS. All lighting solutions are controllable with this amazing application. If you are new to Hue Lights, then this app simply guides you with everything. The functionality, response time, and ease have no match. The app features state-of-the-art technology to transform your room lights.
Get the app on your phone, command, and let Hue takes the pain out of controlling your home lights for you.
Tech Specifications
Wattage- 10 watts
Color Temperature-6500 Kelvin
Light Source Wattage- 60 Watts
Color Palette with 16 Million Colors
Unboxing
At Amazon, you can get a starter kit. The box contains 3 Philips Hue Bulbs that you can easily fit with multiple lamp styles, overhead lights, and recessed cans. The smart button is easy to connect with Alexa and other devices. To know what Philips Hue Smart Button Kit has to offer you, visit here
Final Review
Over the years, Philips Hue Line has made it the best in the market by offering a full line of smart home lighting options. The LED bulbs are installed in minutes with a wider color range at affordable prices. Starting your day with Philips Hue lights is no less than a blessing in the present times. If you want to replace your ordinary bulbs, then look no further than Philips Hue Smart Button Starter Kit.